I just wrote a thousand word entry about this 5 minutes ago but for some reason it got deleted so I had to redo the whole thing. I don't remember much of it since most of you already know, I'm an emotional writer and I put everything I'm thinking to an entry.
Here goes.
About a week ago I got engaged in a conversation with a few of my online friends regarding this threat about a 'Purge'. For those of you who are yet to see this dystopian thriller. It chronicles a 12 hour per year tradition of no laws, authorities and my opinion, morals where you're allowed to do whatever the hell you want with no fear of prosecution or punishment. This goes to say that no one is safe.
The Louisville frenzy starts with a flyer.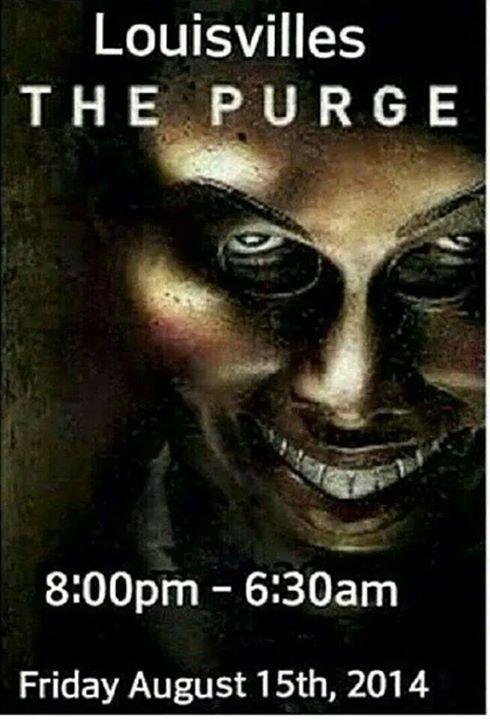 This flyer got games cancelled, forced people to stay inside and encouraged the height of police vigilance.
When I woke up this morning, my twitter feeds were fire with the #LouisvillePurge trend. Basically there were two factions, one freaking out for their lives and those they care about while the other half condemn the hoax that is this issue. My first instinct is to gag at the stupidity of it. Who in the sane mind would want to reenact such a violent, pointless and avoidable act? I'm almost convinced that insanity is contagious and we're contracting it. To be honest, I have no idea what to think.
On the hoax side
Well the pictures people tweet are from the movie and anyone who's seen it can attest to that. Makes you wonder where the real pictures are if there's any. They also question the validity of the police scanner everyone's been tuning on to since the beginning of the 'purge'. They say it's pre recorded or it's sketchy that there even is one.
At one point I even told my sister this might be some marketing campaign to promote the Purge movie franchise like Carrie. If I'm right, they're sick and you should all just boycott the movie because that's not a reasonable stretch of marketing tools use. If I'm not, we should be more discerning of how we interpret movies because reality imitating art doesn't go for everything we get to watch. 
People also pointed out that the city should be on proper lockdown or else it would have spread to surrounding cities. The fact that it hasn't is odd. Well honestly how do we know that it has or hasn't? No major news center like CNN or BBC or Fox News has reported ANYTHING on the matter- which leads me to last reason why people think this is nothing a but a sick joke some guy behind the screen started. Where is the coverage on this really?
On the'IT'S ACTUALLY HAPPENING' side
Mind you the Louisville Police Department does link a police scanner on their site and half the people I talked to online confirmed it's credibility.
http://www.broadcastify.com/listen/feed/13853/web
There's also a few local radio broadcasts discussed by people living in the surrounding areas. Then there's people living in the area talking about staying indoors and being really terrified. It's on twitter under this trend. You can go check it out for yourselves.
And frankly, the fact that major news facets have not said anything about this is a double edge sword. The topic has plagued half the netizen world for hours and you don't see them shutting this down while they blow up stories about celebrities getting back together. It leads me to infer this might be similar to the Guatanamo, Wikileaks cover story where everything is up in the air until they can come up with the perfect media diversion- but that may just be my conspiratorial, non trusting brain working.
Whatever it is, I'll leave you to make conclusions on your own. I will however link sites to help you out.
Let me just end with this. Hoax or not, we should not make jokes about this. There are people who actually suffer from purge-like scenarios. Stop insulting them with humor and your attempts at a pun. IT'S NOT FUNNY.